BLUF (bottom-line up front): Good mod, not hard, happy with the results, only cost was cost of the bones, $48-ish including shipping.
reference:
JINKSTER SUSPENSION THREAD
NOTE: JINKSTER addressed the Gen I busa, and suspension was updated on the Gen II, but his techniques are still valid.
Always wanted to put these on a Hayabusa, here goes:
Bought these:
SCHNITZ RAISING LINKS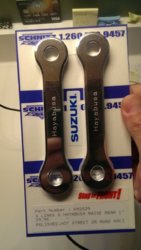 Excellent experience with Schnitz, highly recommend them.
(apologize for fuzzy pics, my phone sucks, did my best, but you get the idea)
First, BEFORE pics:
Baseline to the bottom of the license plate with the bike on stands: 29 inches from floor
Side picture for reference, note the super-cool cozy coupes that share my garage...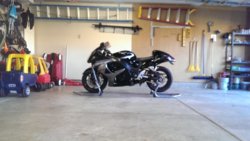 Now, stole the idea for holding up the bike from the suspension post, 5/8" steel rod through the bike, resting on jackstands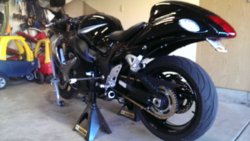 Despite having air tools, I was able to remove the stock bones with a breaker bar, and without removing my newly installed Coffman's exhaust. Comparison of the stock and Schnitz bones.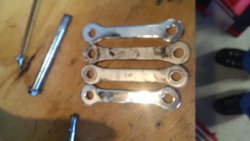 Schnitz were very nicely machined. Did notice the tolerance on the bolt holes was tighter on the stock than Schnitz, but the only impact is ease of installation (Schnitz is easier), but does not impact performance, in my informed opinion.
Now, top tip, use a 2x4 under the rear wheel and tap it to adjust the axle height. You cannot remove stock or install new bones if the suspension is not properly aligned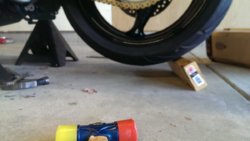 Button everything back up, and torque the bolts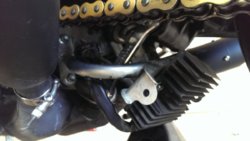 Now, AFTER: 30.25 inches from the ground while on stands, saw an increase in height of approximately 1.25 inches with the new bones installed
Now, compare this after image: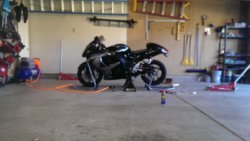 and the before again...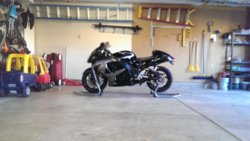 I like this mod. I'm 5'11" and I can still touch the ground and balance the bike just fine. The bike handles better. It isn't dramatic, but I can feel it. It just feels lighter turning-in.
I like that the tail sticks up more now, more like a GIXXER1K.
No real noticeable change in load on my hands.
Highly recommend setting your preload and damping in conjunction with this mod, reference JINKSTER thread.