Ride-On Tyre sealant
Greetings Orgsters.... I put Ride-On tyre sealant in both my tyres on 7th Dec. I knew I had a nail in my front tyre as I was having to top up the pressure every 2nd day. I left the nail there and, to test the claims made by the product, I removed it only after installing Ride-on and re-inflating the tyres. Rode the bike for 2 km and right enough... the tiny hole was sealed and the pressure maintained without any loss. Bike runs smoother too. Bump absorption has improved and since then, I have never had the need to air up the tyres. The pressure's still holding. Plus I can ride with peace...... no punctures, no balancing required.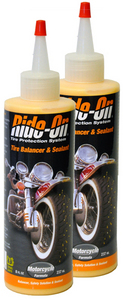 I went for a 245 km ride on 8th Dec and did couple of high speed runs. Max speed touched was 245 km/hr. It rode like a dream. I love the product..... Strongly recommend it.
Motorcycles by Inovex Industries, Inc.
.