I Love my Wife!
Donating Member
Registered
well folks?...the first thing i did when i got to deals gap was to drop by my old friend Ken Wheelers place...and had'im strap O-Ren down to his torture rack (a DJ150 upgraded too a DJ200 dyno) for a breathalizer test...
I had Ivans map in'er (for that pipe) but...against Ivans recommendations i strayed from the stock Aire Filter and went to a BMC "Race" because O-ren seemed a bit fat down low..quite fat..like burn yer nostrals "raw gas" sorta fat...and just wanted to make certain that i wasn't getting "tool lean" up top...and i wasn't...far from it...as O-ren was "FAT" across the board...even with the bmc race airfilter...and Ken took'er from a 10-11:1 ratio to right at 12:1 across the board..
not much power gain buuuut...the throttle got noticably "crisper" and that nasty azz rich smelling exhaust went away...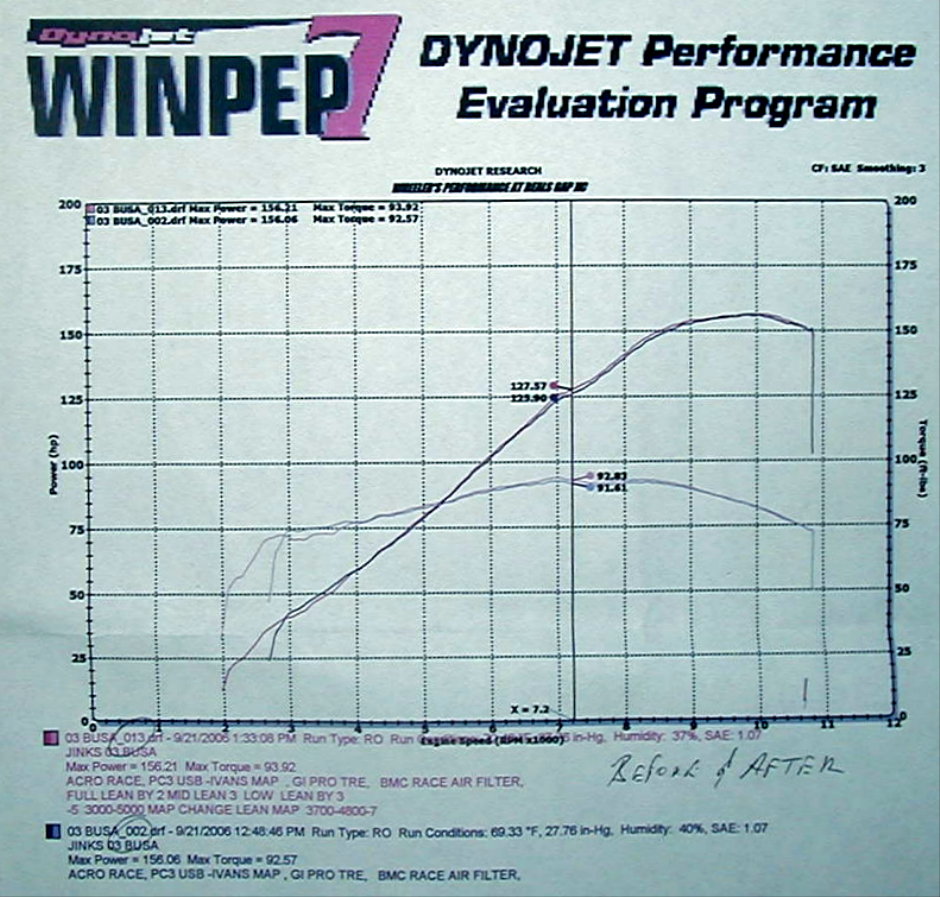 but the coolest part?...was my "Top Speed" results...no doubt the rewards of a GiPro combo Gear Indicator/A.T.R.E. as follows...
also?...the following day?..after i turned Grandpabusa onto the idea recommending Ken to him?...Grandpabusa took his Full Dual Exhaust HMF equipped busa to Ken and Ken worked his majic...not only tuning a 10ftlb dip out of his power curve?..but in the end?...Ken had Grandpabusa's busa putting out about 1.5 more RWHP and a 1ftlb more toque than O-rens akro race exhaust..but that could've been the result of any one of many variables...including valve settings/timing bu nontheless?...it was awesome to see Ken tune that flatspot out of the HMF..but what we also noted was this...even though Grandpabusa was putt'in out just a smidgen more power?...his "Top Speed" was only 177mph...and here's the interesting part...Ken deduced that tyhe reason for the low mph boiled down to the Metzeler M3's that Grandpa had on his busa...as evidently?...the M3's have a much lower profile...hence a smaller tire diameter...which basically equates to a sprocket change...which obviousely dosen't enhance "Top Speed" numbers..but still...both bikes were running awesome when Mr. Ken Wheeler finished his tuning majic...rendering info i thought i should share and..
L8R, Bill.