Morning, fellow Busa lovers.....
(Mods if this is in the wrong place, please move.....)
So I'm installing (or at least I was....) a Thompson's 4-8" 240 kit on my gen 2 Busa. All was going well until I got to the last step, installing the chain. Hopefully someone can help.
* Rear tire is all lined up and installed, but not torqued down, ready for the chain
* Front offset sprocket exposed to feed the chain thru
* I run the chain from sprocket to sprocket to determine length, remove a few links, and close it up.
* To my dismay, I observe that the chain, on the top and bottom, is TOUCHING the edge of the rear tire.
All seems to be installed properly, I can't tell what the problem is. Certainly its not meant to rub the tire, I'd have missing paint on my wheel by the time I got out of my sub-division. All equipment used was from Thompson's in the 240 kit I purchased. Nothing is binding anywhere else, and installation otherwise was a breeze.
Its an EK 530 chain and Vortex rear sprocket. It doesn't appear to be a wheel offset issue, it appears to be the distance between the rear sprocket and the wheel. Like it should be off to the left even 1/8 inch. But I didn't even install the sprocket; it was already on the wheel. I've dug again thru the boxes and found no missing anything. Thompson's was closed time I discovered this last night and I can't contact them until Monday.
And the other thing is that if there IS a missing spacer that bumps the sprocket out a tad away from the wheel, it seems it would run the chain at a slight angle, and that can't be good.
Anyone have any experience with this?
Thanks for your input.
Here's a few pics of what I mean:
Rub: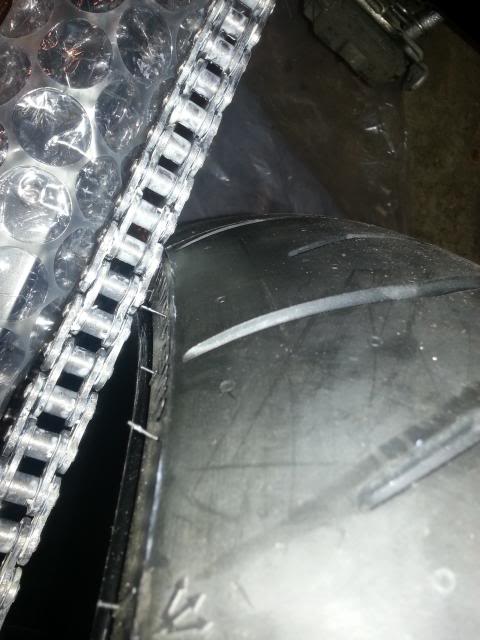 Hub piece in the sprocket seems to have a bit of room on it for a spacer, but is that right?