Donating Member
Registered
Shenandoah AMA 500 hanging out with Pepper's owner.
Before the ride starts, Pepper in front, me waving in the back.
Ride meeting, explaining maps, roll charts and how to still ride national forests with a government shut-down.
And we are off, everyone doing their own thing, but meet together for breakfast, lunch and dinner.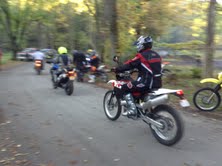 Meeting for lunch, 250 of us, supporting the local community, served at an elementary school
Did not take pics on the single track, got a lesson in dirt riding and had to hang on the back, so as to not get lost. I did however get the chance to say hello to my ancestral family on the way back.