Re-Recycled, Busa-Less...
Donating Member
Registered
Just the Pron as promised. I couldn't be happier, ran about 220 rounds through her tonight and get the EoTech dialed in. Didn't have a single Hickup, or Failure of any sort. Though it was Smoking like it was on fire at one point. [
] Trigger is clean and has a good sharp break with little over travel. Action is very smooth and the Rifle never missed a beat.
Was printing under 2" goups at 25 yards offhand I am pleased with this because I know it can do a hell of alot better without me swinging the butt end around.
Anyhoo here's the porn. Enjoy!
Fully Floated Barrel. I will be replacing the Flash hider. Troy Industries Rails.
Apparantly Smith wants you to know they made this rifle.
Cause their Logos are everywhere.
MMMMmmMMMmm, Stinky Dirty... I have my work cut out for me tomorrow.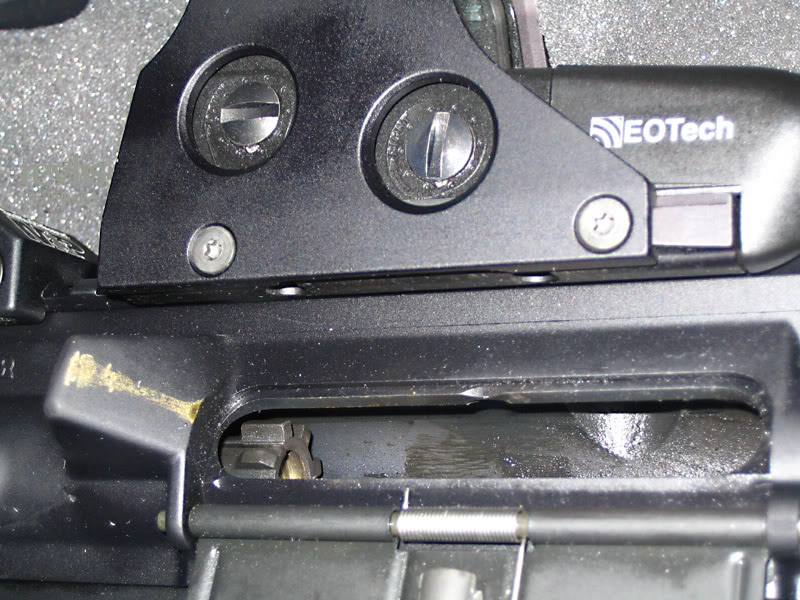 Rear 3/4s I'm going to be adding a Butt pad, then a different grip. That's about it.
My custom sighting in targets. Printed at the office, Hell I can print whatever/Whoever I want on there... Hmmm...
The Troy Ind BUIS Provide a perfect Co-Witness with the EoTech. Sadly I was unable to get them dialed in as they are tighened way up and nobody had the allen wrench I didn't bring at the range. So I'll get them Dialed next time.
Like I said I could not be happier, the weapon functioned flawlessly and was wonderful to shoot. I've really missed shooting the ARs... Very Glad I went with an AR instead of an FS at this point. I'll be looking for more help in the future as I start my SPR build or similar.
Rev
Jinkster, A6, Bullet, NitroJunk, And the rest of ya, I appreciate the input I recieved and it all played a part in my decision. Next AR is going to be built ground up by me. I'm thinking a 20" Stainless SPR Clone maybe...