I picked up the near stock bike about 2 months back. After putting 70 miles on it, the performance was disappointing. (I was used to a 200+ rwhp sprayed R1)
The oil drain plug had an improperly installed helicoil, so it would leak. I bought a new pan, but since it required me to drop the header, I figured I might as well go turbo at the same time. (Anything to justify the project, right?)
While waiting on miscellaneous parts from a not-so-honest vendor, I pretty much redid the entire bike.
Here's the new setup:
Boost:
Velocity Stage 1 Turbo / Header assembly
K&N RU3560 Filter
8AN oil dump
3AN oil feed
Aluminum Upper plenum w/BOV
Dump pipe
Cometic Header gaskets + new OEM header gaskets (doubled up)
ARP header studs
Fuel System:
Billet Fuel Rail
Bosch 044 + Billet mount
Aeqoquip socketless 6AN hose
Every hose using push-loc AN fittings
Begi 2025 RRFPR
Russel Billet Fuel Filter 230106
Stock injectors were cleaned, overhauled, tested, and flowed by MPS
Safety/Tune:
Dynojet Wideband2/Autotune
Dynojet Powercommander PCV - using for fuel control
Dynojet Powercommander PC3R - only using for timing control
Dynojet LCD 200
GM 3 Bar MAP
ECUEditor flash (for limiter change, shifter, etc)
AEM Water Injection System
AEM water injection filter
Aluminum water injection tank
Auto Meter Ultra-Lite Boost Gauge
Auto Meter Ultra-Lite Fuel Pressure Gauge
Extra radiator fan from K5 gsxr1k
Engine Ice
New oil pan
Oil Pan Gasket
Clutch Gasket
APE Heavy Duty Clutch Springs
Billet Low Profile crankcase breather
Billet Slave Cylinder support
OEM Steels & Plates
Suspension:
Trac Dynamics 4-8" over arm with air tank (came polished, had it powdered flat black)
Adjustable rear lowering links
Front lowering "risers"
Front strap
17 tooth front sprocket
42 tooth rear sprocket
SpeedoDRD speedometer adjuster w/recall
EK ZVX2 Chain 530 140 Link
Galfer black stainless rear brake line
Galfer black stainless front brake lines (on backorder)
MPS Air compressor
MPS air shifter
190 Dunlop Q3 rear tire (street)
Shinko Stealth Ultra Soft (race)
Misc:
Pro-tek Black CNC rearsets
ASV short black levers
Black double bubble windscreen
Black CNC grab bar
Smoked front turn signals
etc.
Some pics:
When I picked it up: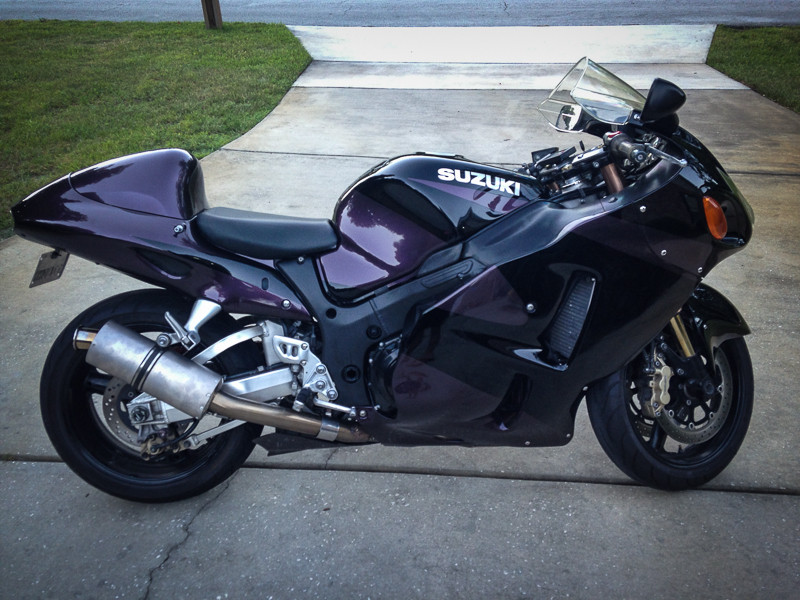 In progress: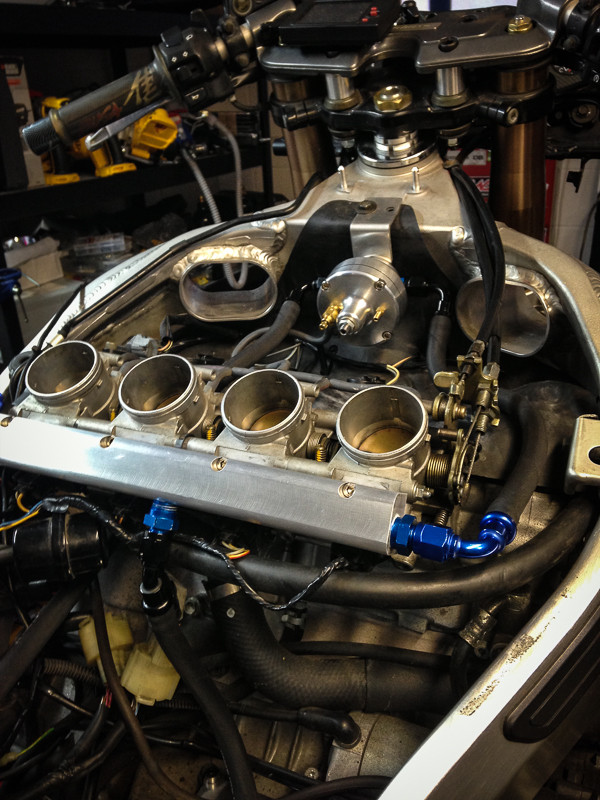 And then as it sits now.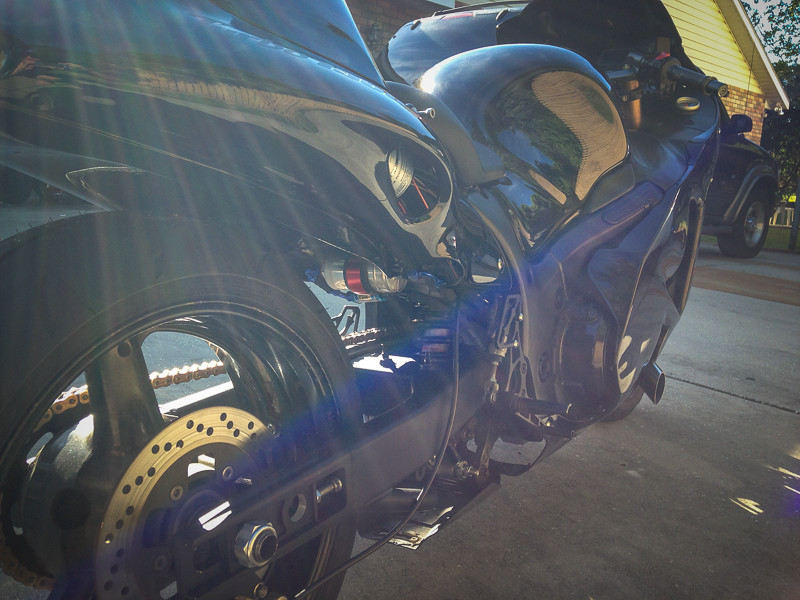 I have a few more loose ends to tie up before it goes to Sarasota for a tune. (Such as waiting for the new decals to replace the crooked left side install...
)
I want to give a huge thank you to Frank @ Power House for all of the help with my build. The parts I bought from him arrived fast and he went above and beyond with advice and guidance on the project- Even though I only spent a few hundred $$ with him.