Hey everyone... Many of you know my addiction to speed trickles down to my brother as well. Last year we ran the One Lap of America, hosted by Car & Driver magazine and finished 1st in class and 5th overall. We would have had a higher finishing place had we not split a turbo hose at No Problem Raceway, netting two DNS for the day.
This year, learning a lot from last year... we are MUCH better prepared. In addition to preparation, the car my brother has built is far superior in every way. We are making more power but also with a smaller turbo, so the power will not be so abrupt but more tractable for road racing use. Last year we were 1st in the Mid-Priced Sedan class, using a 2005 Subaru STI. this year we decided that lower weight and class selection were the key... so, in viewing the rules and their intent, we purchased a 1995 Subaru Impreza 2-door to run in the Economy Class!
By utilizing the Impreza, all drivetrain, interior and suspension parts from the 2007 STI will bolt on. This allows a significant weight savings over a 4-door car that since 1995 has grown in substantial weight. It also allows for points awarded for a Economy class car when kicking the living daylights out of a twin turbo Porsche or Viper! So its a bonus!
After purchasing the new car, everything was stripped down to save weight. Everything! The new drivetrain is straight out of a 2007 STI that was wrecked. All the new computer controlled differentials and active stabilization are being utilized. Couple all that with the 680 all wheel horsepower this car makes, should be more than interesting.
At Mid-Ohio testing last weekend, the Scooby managed to embarass a new C6 Z06 American Iron class car wearing Hoosiers and we were only shod with DOT 140 treadwear street tires. I guess I am a little proud of the little brother.
The following is the run schedule and track event list. If you are nearby, or can make it to any of these events... Please let me know. I will get you access to these closed events if you can donate drinks & food while they are at the track. I'm only talking about Gatorade & McDonalds... nothing too crazy. Doug and Luke are having a crazy driving schedule and buying food on the track event is sometimes something that gets forgotten. Even baby Wipes and a fresh towel go a long way!!
<center>
</center>
If you cannot read this schedule,
Click here for the One Lap of America site schedule
Here is a pic of the car for this year:
<center>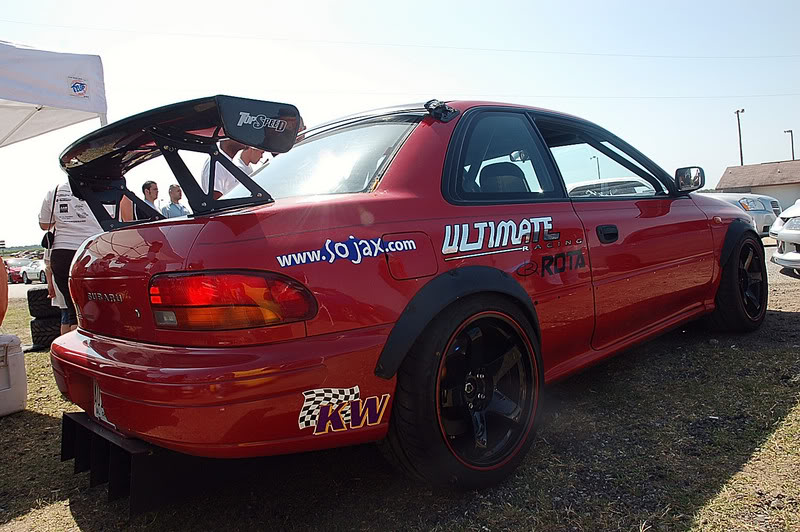 </a>
</a>
</a>
Just to keep you all happy...
</a>
A STOCK Z06:
</a>
</center>
Here is last year's overweight car:
<center>
</center>
Last schedule update: 26 April 2007
(note: schedule is subject to change due to weather, track conditions and whim)
E LOCATION OVL DIST INC DIST TIME ALLOWED AVG SPEED DATE TIME DAY
Tire Rack 0 0 0 0.0 04 May 0800 Friday
Registration Opens May 0800
Registration Closes May 1500
Drivers Meeting May 1600
Welcoming Party May 1800
The Tire Rack 0 0 0 0 05 May 0800 Saturday
1 Start Event 1 Skid Pad (Wet) 05 May 0900 Saturday
Finish Event 1 05 May 1130 Saturday
Plymouth Speedway 33.8 33.8 1 33.8 05 May 1100 Saturday
2 Start Event 1 Oval 05 May 1100 Saturday
Finish Event 1 05 May 14000 Saturday
Autobahn Country Club 140.4 106.6 3 35.5 05 May 14:00 Saturday map
3 Start Event 1 Time Trial 05 May 1500 Saturday
Finish Event 1 05 May 1800 Saturday
Mid America Motorplex 592.9 452.5 15 30.1 06 May 0800 Sunday map
4 Start Event 1 Time Trial 06 May 0830 Sunday
Finish Event 1 07 May 1130 Sunday
5 Start Event 2 Time Trial 067 May 1230 Sunday
Finish Event 2 06 May 1530 Sunday
Miller Motorsports Park 1576.5 983.6 19 51.8 07 May 0800 Monday map
6 Start Event 1 Time Trial 07 May 0900 Monday
Finish Event 1 07 May 1200 Monday
7 Start Event 2 Time Trial 07 May 1230 Monday
Finish Event 2 07 May 1530 Monday
Pueblo Motorsports Park 2173.9 597.4 18 33.2 08 May 0800 Tuesday map
8 Start Event 1 - Time Trial 08 May 0900 Tuesday
Finish Event 1 08 May 1200 Tuesday
9 Start Event 2 - Time Trial 08 May 1300 Tuesday
Finish Event 2 08 May 1600 Tuesday
Hallett 2764.8 590.9 17 34.8 09 May 0800 Wednesday map
10 Start Event 1 Time Trial 09 May 0830 Wednesday
Finish Event 1 09 May 11:30 Wednesday
11 Start Event 2 Time Trial 09 May 12:30 Wednesday
Finish Event 2 09 May 15:30 Wednesday
O'Reilly Raceway Park 3439.3 674.5 17 39.7 10 May 0800 Thursday
12 Start Event 1 Time Trial 10 May 0830 Thursday
Finish Event 1 109 May 1130 Thursday
13 Start Event 2 Time Trial 10 May 1230 Thursday
Finish Event 2 10 May 1530 Thursday
14 Start Event 3 Drag Race 10 May 1600 Thursday
Finish Event 3 10 May 1700 Thursday
15 Start Event 4 Bracket Drag 10 May 1700 Thursday
Finish Event 4 10 May 1830 Thursday
Mid Ohio Sportscar Course 3689.6 250.3 14 17.9 09 May 0800 Friday map
16 Start Event 1 Time Trial 11 May 0830 Friday
Finish Event 1 11 May 1130 Friday
17 Start Event 2 Time Trial 11 May 1230 Friday
Finish Event 2 11 May 1530 Friday
Tire Rack 3947.5 257.9 18 14.3 12 May 0800 Saturday
18 Start Event 1 Skid Pad (Dry) 12 May 0900 Saturday
Finish Event 1 12 May 1130 Saturday
Finish Tire Rack 12 May 1200 Saturday
Awards Banquet 12 May 1300 Saturday