So I have been looking for one for a few months now and my buddy dave linked me to a busa in boston for 6k that was an 02. So I said let me call the bank. Bank said no problem got approved in minutes and I called the guy this am and no answer...
Discouraged I looked around more on CL and found another one that was black and red. Not really what I wanted. (Wanted all black). But it looked mint and was 6k also with 10k on the clock.
Call the guy. Turns out the bike is in mass. No problem ride up there and its a custom shop! Must have been about at least 30 busa's tricked out beyond recognition.
I see the on in the ad had some scratches and was pretty modded then the guy tells me its sold and he did not know. I was like damit.
But he was like hey I got a couple over here too. BAM there was... 03 busa, 6k on the clock, bone stock, owned by an old guy who traded it in for a cruiser and it was from Florida! I was in love...
Bought it 5 minutes later. 6,500 out the door. He took off 500 because the other one was sold. Couldn't jew him down anymore not a bad price for the condition its in. And its all black. Some of the frame is aluminum color which hopefully I can anodize some how black.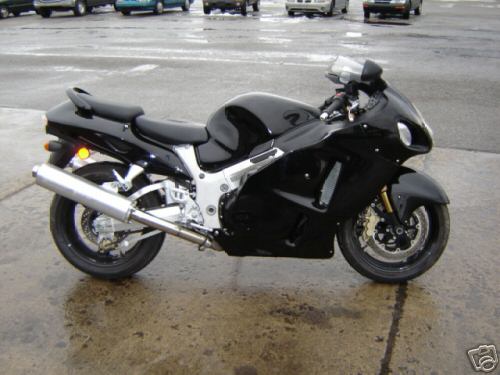 And no it was not laid down either. Guy repainted for some reason. Checked car fax and a police vin check.