Suffers from PBSD
Donating Member
Registered
Again with almost regular timing another drunk forgot to steer thru the two turns on my street. Made the first turn but not the second. He went wide right off shoulder up onto sidewalk and missed a solid concrete poll by inches. Had he hit it head on it most likely would have been the end but for sure much worse. After missing concrete poll he continued for about forty feet on sidewalk headed straight for both my cars in driveway. We theorized (means nothing) that when he blew thru another scared mailbox of mine the sound of it woke him or startled him and caused to vere slightly to the left just passing behind both my cars again by inches. But that's where his luck ran out and he shattered a solid wood lightl pole. He drove thru that still on side walk and barely missed the neighbors cars before he exploded their mail box. Then he came back on road where sidewalk has drain hole for storm runoff and this seems to have looped him around where he came to a stop.
It was about 4:30 am. The sound of him hitting light pole was what shook the house. It was so loud and such a shock that my first thought was that my bike had fallen over? Jumped up and realized it wasn't when I heard the wife yelling omg looking out window. It was about 45 degrees at the time and all I had on was shorts and flip flops but I ran out as usual to make sure they were ok. As I come up sidewalk while dialing 911 I saw a guy coming ass backward out of vehicle. I came up to him and asked him in Spanish if he was ok. (He was obv Spanish). His eyes were literally rolling in his head. He said nothing. I repeated it and asked him to sit down. He started backing up sidewalk walking away but was so wasted he could hardly stand. I yelled at him to sit! He didn't. I was on phone with sheriffs office telling them 'he's getting away.' They said watch him and stay on phone. No sooner than that a deputy came round corner with lights on, fast. I was waving my arm in air going 'hey he's over here' cuz as soon as driver saw popo he stumbled faster and ducked off into the woods. Cop jumps out extends his asp baton and goes running in. I was freezing by this time but I heard the cop grabbing and yelling at him to obey. You could hear they were scuffling with the branches and woods rustling. Few secs later another officer comes screeching up and runs in as well. About ten mins later they came out with him in cuffs. They asked me to ID the guy as one who came out of vehicle and make a statement which I did.
Here's his car after it came to rest...
All that remained of my poor mail box. I can only imagine his terrified last few seconds...
Cleanly cleaved the pole....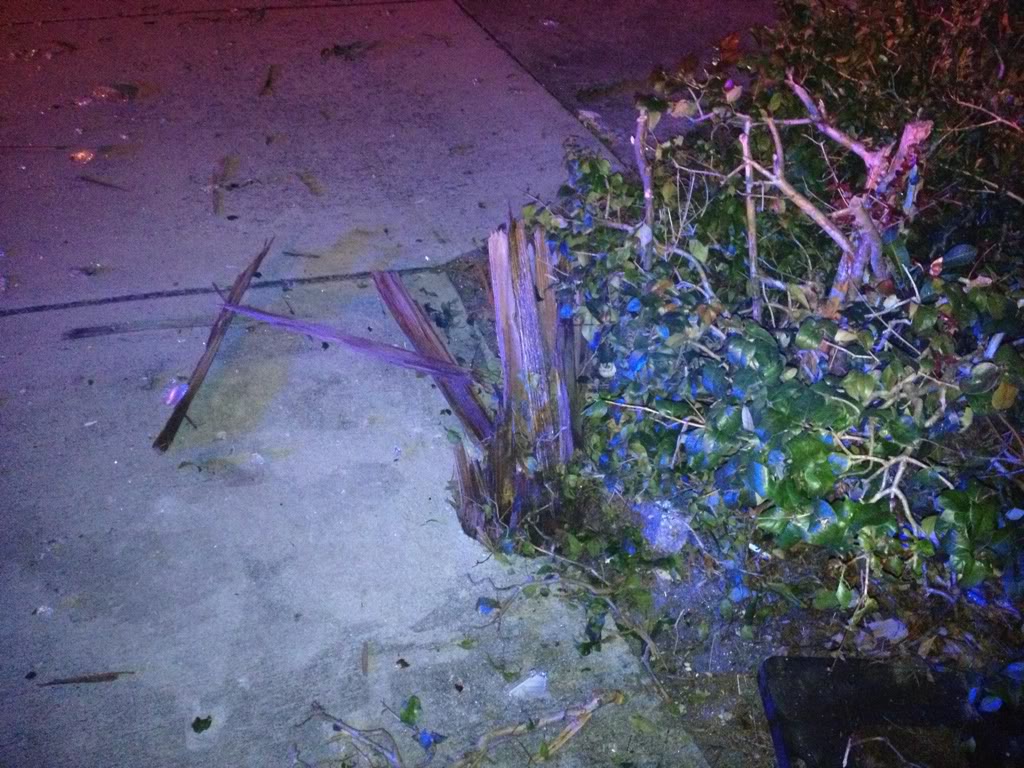 Pole was actually in the street but we moved it out of the way before they blocked road off so nobody would drive over it. You can see vehicle up road parked on sidewalk.
Now it wasn't until this morning when we went out and realized how close he had come to going head on into the concrete pole as well as how close he had come to plowing into our cars. In this pic you can see concrete pole and his right front tire mark inches to the left of it. His left front tire skipped curb where the poles shadow meets the road.
Continuing on up sidewalk his path is easy to see, straight at cars in driveway. Then it seems as if when he went thru mailbox for some reason he veered a bit left just passing behind cars. Curvy black line behind my car is from his right front tire.
You can see mark from his right front tire right behind bumper of my car left of seam in concrete.
You can see path he took by looking at approaching cars in top of pic. They come round the bend right at me. Then forget to steer left.
I've already priced out some boulders. I think I'm gonna line my yard with them.