Suffers from PBSD
Donating Member
Registered
I finally got time to put together all the pics I took from the different sources and wanted to share my adventure. In true Red1100cc style this was 'SoFla to Robbinsville, the Bash or Bust'
First day around 10am I headed out...man she was clean and ready to go...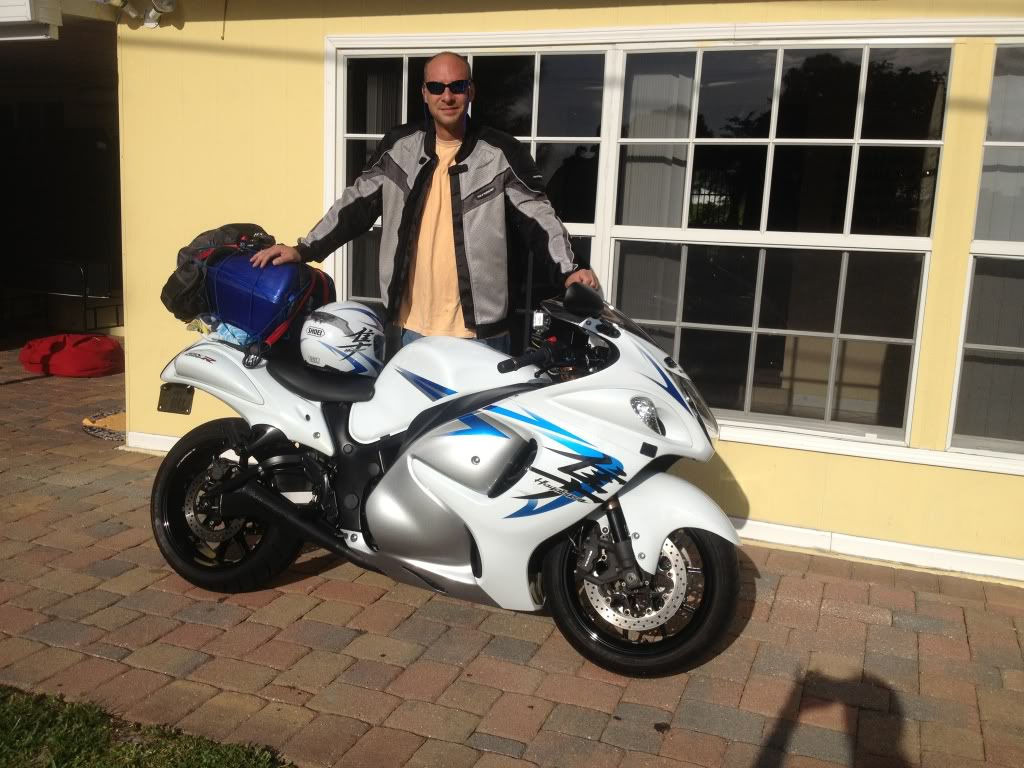 First stop about two hours later for gas and a Red Bull for me. Got 180 miles out of 4 gallons.
About 7 hours later I was spent. Went 508 miles first day. This was the longest I'd ever been on a bike straight shot. Stopped just south of Macon Ga.
Nice feeling having your bike inside next to you. I let her cool off for a bit and then had to start it up to shoot her thru the door as it was a bit uphill. A few mins later I get a knock on the door.
Then it came again so I answered it. The bike was kinda behind the door so I only opened it up a bit and the owner/mgr said he had to check the toilet? I said it works fine still standing in door and then he said he wanted to check for himself. We both knew what he wanted so I opened it up.
'OH! Uh Nice Bike?!?' he said. I asked if there was a problem and said I'd leave if I had to and then he said no its no problem. Seeing as how I was 50% of their occupancy I guess it didn't matter.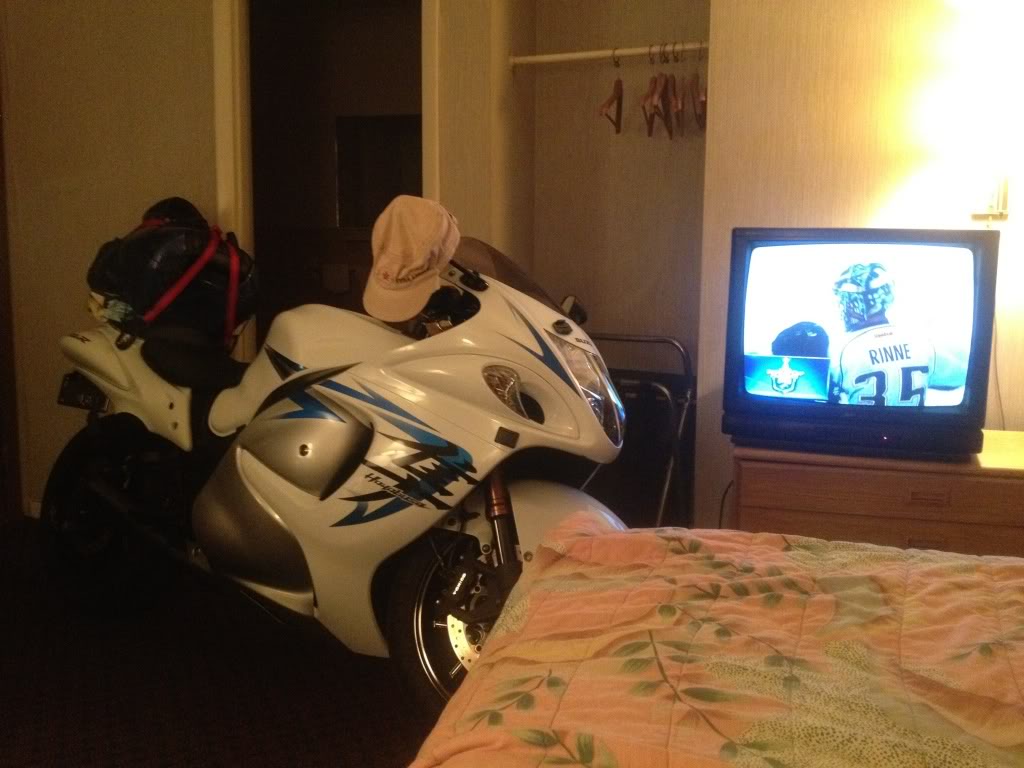 Woke up the next morning wondering why it was so cold and then remembered I had ridden 500 miles north the previous day...duh! Opened the room door to 50 something pouring rain, bummer! Ate at waffle house hoping it would slow and it only got worse so I donned my frog toggs per recommendation of Sir Drops Alot (the artist formerly known as TwoBrothersBusa) and mounted my trusty steed and hit the wet trail.
I rode 300 miles in constant pouring rain. It took me almost all day. Hate riding in it but had no choice. The rain gear worked for a few hours but after that I was soaked all the way thru and just miserable. Couldn't see for most of the day but Blanca assured me we would make it. It was still pouring when I passed this sign but turned around for a pic anyway. I guess this was about 100 miles out from Robbinsville.
After two days I made it!
Bike was FILTHY! Where's Sleepless Red and his pledge when you need him?
Not just a few minutes later Tim/Earlybird and Vabs pulled in soaked as me, although their wet clothes did smell a bit better than mine
The first thing that really caught my eye was the fog on top of the hill across the way. It was culture shock for me because I hadn't seen hills and trees and things like this for a long time.
First night Tim said 'Thats no fire!'
'NOW, This is a FIRE!'
Capt explains to RacerV that he's very sorry but the last three burgers on the grill are not available..
Wicked pic of GixerHp's bike...
Yes a gopro will stick to a bald head says RacerV
So first day there some of us rode up to the CRoT or Cross Roads of Time restaurant and gathering place which is right on bottom end of the Dragon for breakfast. From left to right the bikes are Semi, TwoToneVert, Capt, Blanca, CrazyArch and Earlybirds
Inside at the table you have Capt turned facing camera, CrazyArch first on right, Earlybird to his right, Semi sitting on end and TwoToneVert and wife Julie
Then DarcieDog and wife sat down with us for a spell..
Outside after breakfast I obliged a fan who recognized me and gave them a chance to sit on the back of my bike...
Rooster Rider007 and I hung out for a bit at the lookout with the popo...
Back down at the CRoT after a run or two PhilBilly80 and Busawhipped look over....
....and ask MacFast what he's thinking.....
'I think umma gunna go back up that hill one morrrrre time!'
The Tree of Shame says be careful...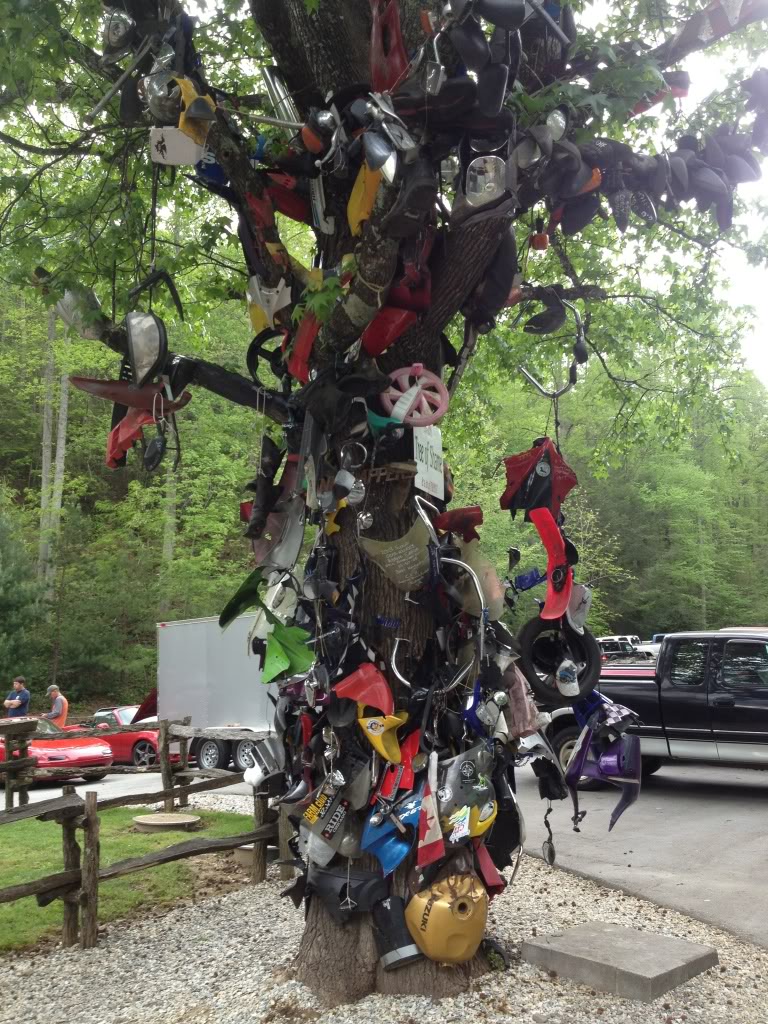 The next day it was raining and they couldnt ride so they took their frustrations out on some poor girls bike..
Later that afternoon Capt thought he saw blue sky and wanted some ice cream so they all decided to load up...
Mc and Snooki got ready....
Thirty mins later they ran into rain and were back.
So Tim and I decided to walk across the street and have a couple hot fudge sundaes...
Don't know why they had to ride for it when they got em right across the street?
Later that night Capt tells Sir Drops Alot 'just wait till Blanca goes to log in, I changed his name
!'
This is a bummer of a sight. Sunday morning already. Loaded up and ready to go home. Hadn't really planned on it. Had the weather been a bit drier and warmer I would have stayed thru Monday. Really wanted to ride with you Peter on the Skyway but if it was forty something at the Phillips 5000 feet up on the Skyway would have popsicled me.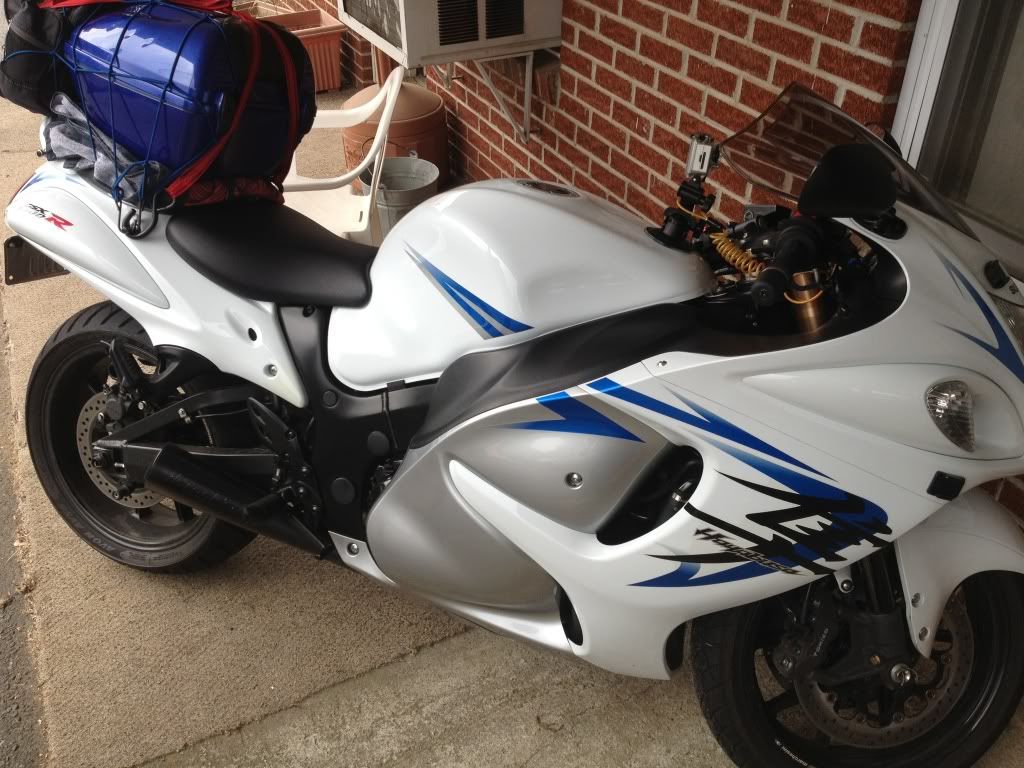 Made really good DRY time. Stopped for a Taco just south of Atlanta. Some durn idiot got back on I75 North and drove a good 20 miles before he realized he was going the wrong way. Really put me off that guy did!
Ten and half hours later I made it home in one straight shot. Traffic was really moving.
Total miles for the trip...
Wow so good to be home and kiss the one who really missed me!
So no more 'Avon' written down the edge, plum wore it off