I Love my Wife!
Donating Member
Registered
Here ya go folks...finally.
1. You're gonna need a manometer (4 bank vacume gage) of some sort..I highly recomend Motion Pro's Mercury Stix..about $79 from Ivan and well worth it as they'll pay for themselves the first time you use them.
2. The vacume hose/manifold as supplied from the factory absolutely suxed to try an remove...like they put'em on using some sort of super adhesive...I wound up having to slice mine off with a razor knife so...for that reason?...I also recommend that you have a couple of feet of 4mm (or 5/32ths) I.D. vacume hose handy before you start...you'll see why..as follows..
Step #1:
Remove your seat and raise your tank up on it's prop rod.
Step #2 "Removing the Airbox":
a. Remove the 10mm bolt (threade into the frame) from the front/center of the airbox.
b. Loosen the 2 phillipshead clamp screws (1 on each side) which clamps the rubber boots from the airbox to the throttle bodies..there's only two screws to loosen as each tightens and/or loosens BOTH boot clamps on either side...and you can run'em out good and loose...there's plenty of thread
At thios point you may gently wiggle and lift the rear of the airbox to free the rubber boots from the throttle bodies and cock the rear of the airbox to the left for better access to disconnect the following items...as applies...
There are (3) things to disconnect on the underside of the rear of the airbox...
1.
"The Vacume Sensor"
(by removing the screw as it appears the sensor is supposed to just slide off the tab but mine was so tight it was just as easy to remove the screw rather than risk any breakage) also...don't figure you can just unplug this as you'll need it so the engine can run properly during synching and..
2.
"The Crankcase Breather Hose"
(located in the center) and..finally?..
3.
"The PAIR Supply Hose"
on the far right side (if still so equipped as mines been removed where the orange vacume cap is)...as follows..
your airbox should now be free to remove except for one last vacume line which goes to your airbox flapper diaphram in the center underside of the airbox..just pull it free and set the airbox to the side to reveal the following...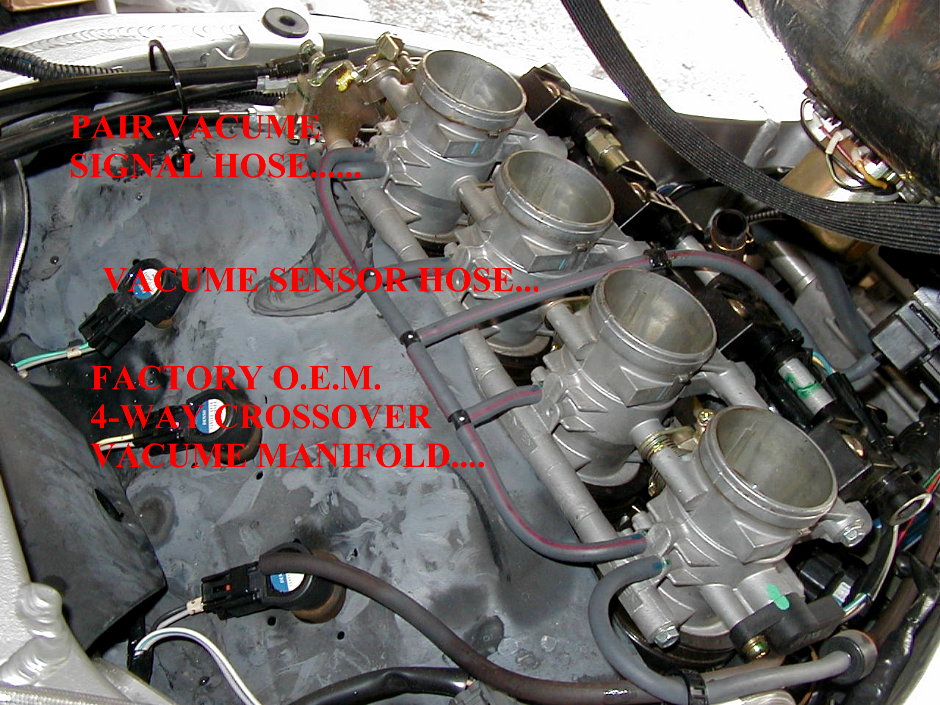 Except For The Far Left Vacume Hose On T-Body #1
Remove all of the vacume hoses from the throttle body nipples by slicing them with a razor knife as they seemed to have some sort of super adhesive on them..then hook up your vacume monitor like so....and...
"NOTE/WARNING": WHEN USING MERCURY STICK SYNCH GAGES DO NOT REV YOUR ENGINE MUCH OVER 4-5K RPMS CAUSE IF YOU DO?...YOU RISK SUXING MERCURY INTO YOUR INTAKE SYSTEM AND YOU WILL GET TO WATCH YOUR ENGINE BLOW BEFORE YOUR VERY EYES AND YOU WON'T HAVE TIME TO EVEN THINK..."OH SHID"
There are (3) cad plated (gold) adjustment screws located between the T-Bodies easily identified by a screwhead that will accept either a flat blade or phillipshead screwdriver..be careful not to put any downward pressure as you adjust them as follows...
after synching is complete...connect your vacume lines like so by jumping 1 too 4 and 2 too 3 with a "T" for your vacume sensor hose like so..
Then replace the airbox...re-connect all lines and sensors and final adjust your idle speed to 1,100-1,200rpms...then button'er up cause...Big Boy?....you're all done.
Enjoy and...L8R, Bill.
<!--EDIT|JINKSTER
Reason for Edit: "if it helps my busa bretheren it belongs here"|1144273251 -->