I Love my Wife!
Donating Member
Registered
Well folks...they arrived today and here's what they sent me..(including "cyclcat logo chocomint candies!
)...
I found a better/easier way to put the brake return and brakelight switch springs on...without pull'in and tusseling with needlenose pliers and running the risk of scarring up my new rearsets?...I just popped the brake clevis off the splined shaft and it was cake from there...just lash the (now "free state") spring ends in the holes then simply pull the clevis back down into position....like so...
and as long as i had that much tore apart?...i figured i'd sleep much better if my brand new $545 rearsets at least started out life with a fresh coat of Kendall Super Blue in the brake and shift pivot bushings.
The bushing are most likely "oil-light bronze" (and it's widely believed that they don't require lubrication)...but i figure there's no such thing as "too much lube"...not in this application..so?...on it went...
I researched this issue hard and in the end decided that the $545 pricetag was worth the price of admission on these puppies as not only are they "The Most Adjustable" on the market today but...they are also the only rearset for a hayabusa i found that
"GO DOWN"
as well as back and up and forward and any other direction your mind, soul and comfort zone may wander..you name it?...and they'll adjust to it...so i figured..hmmm..this is cool because not only can i dial in settings for gett'in my toes up for lean time ripping?...but with a 5mm and 6mm allen and about 5 minutes time?..I can adjust for a sweet "Low & Back Comfy Azz ST Mode" setting...so onto the numbers....
this pic depicts the location of the stock footpeg (and keep in mind that mine have 3/4's of an inch of rubber sliced off the top)...but as such?..my "Shaved" stockers measured 6 1/2"s back (from the front of the frame spar) and 14 1/2"s Down (as measured from the bottom of the seat)..
and the cats?..at full straight back?...measured a whopping 8"s...a full 1 1/2"s of "rearsetback"...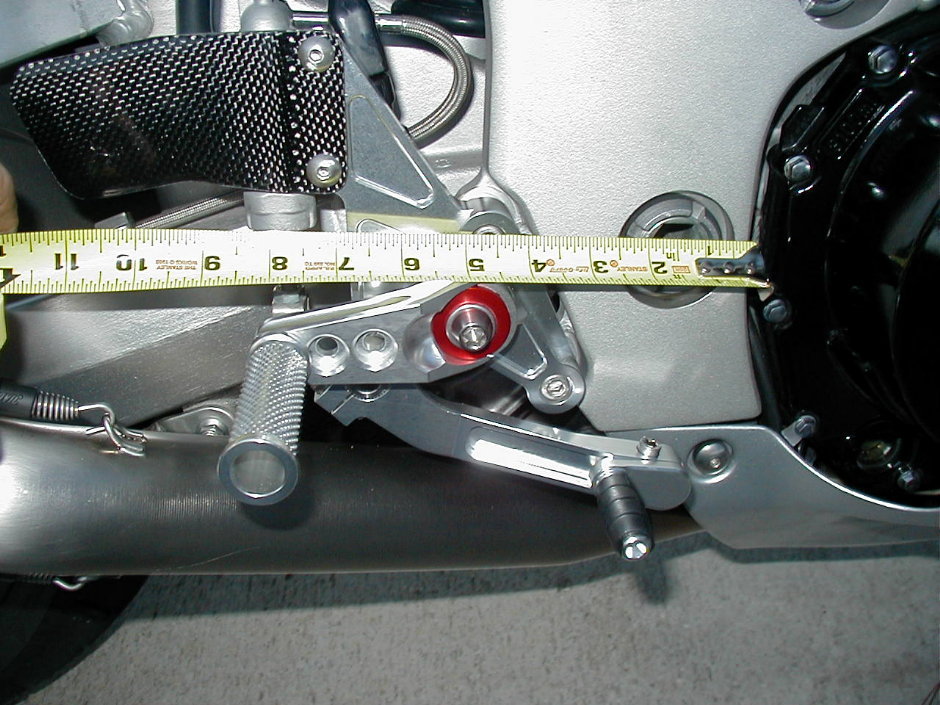 but this full straight back position (which I've set and established as "My Agressive Lean Angle Race Settings" also raises the pegs too a scant 13"s even (from the bottom of my seat)...but believe it or not?..even in this agressive setting?...due to the huge rearward movement it actually feels far more comfy and took considerable load and pressure off my 48 year old hips than did my shaved stockers...and here's what my "Aggressive Lean Angle Race Settings" look like...
then?..with a 5mm & 6mm allen?..and about 5 minutes time?...I can switch up to my "Comfy Highway ST Settings"..by dropping the brake lever just (2) splines and dropping the pegs down one dowel hole location which only knocks a 1/4" off the rearsetback too 7 3/4" (still 1 1/4" further back than stockers) but drops'em to an astounding 15"s (from the boottom of my seat)...simply put?..1 1/4" Back and a whopping full 1" lower than my "SHAVED" stockers..which is a total of 1 3/4" lower than original (full rubber) stock pegs..and 1 1/4" more rearward...and here's what my "Comfy Highway ST Settings" look like...
In closing?...I was shocked to the high side with these rearsets..waaaay worth the price of admission..all pegs (toe & foot) sport countersink recessed engagement and the footpeg rotation bracket is not only dowel pinned but held in place with a Conical Head Ti (and yes it is cause I "spark checked it" LOL! ) sweet azz bolt...these rearsets are light...strong and of superb quality...and if anything?..are overly adjustable..and for bonus points?...they look trick as he11.
and yes...i'm thrilled with'em and L8R, Bill.
<!--EDIT|JINKSTER
Reason for Edit: None given...|1152934587 -->