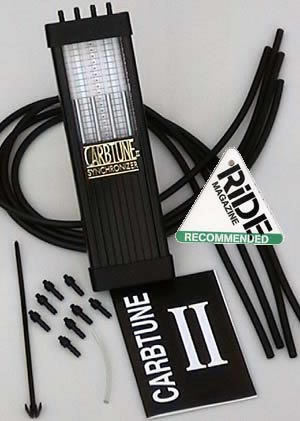 Very Very nice product, not that there is anything wrong with the mecury sticks (my porblems were all self generated) but if your not comfortable with using mecury this tool is excellent.
I knew my throttle bodies were out so while I had it the air box off (and sitting at 7000 miles) threw in some new plugs and balanced the throttle bodies using the Carbtune II and what a diference. I sit in traffic and I almost have to look at the tack to make sure it still running it's so smooth. Purring like a happy kitten
Thanks to Jinkster for the tutorial
, never would of thought of doing it on my own. I did ask my local stealership...$175 to do what I did (just balancing the bodies).
If you don't like the thought or chance of mecury around you or in your motor, the Carbtune II is a must have, highly recommended.
Don't remember who recommended the Carbtune to me but
thank you. Awesome product.
http://www.carbtune.com/carbdtls.html